Win Prizes: Logobird's Anniversary Giveaway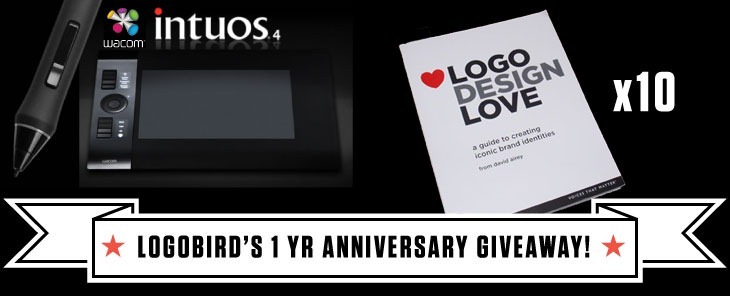 Logobird was officially launched one year ago. Its been a really exciting 12 months for us, with the growth of the site well exceeding all our expectations.
As is almost customary, I could take this opportunity to go into detail about our subscriber stats, achievements, most popular posts, yada yada – but I'm not here to gloat.
The purpose of this post is to give something back. To say 'thank you' to our readers and the design community as a whole.
To show our gratitude, we are giving you the chance to win a bunch of free stuff!
Here is what you can win!
1 x Wacom Intuos4 Medium Pen Tablet

Have you always wanted to try a tablet, but just can't justify forking out the money to buy one? Well, this is your chance to get one for free!
One lucky winner will be taking home a Wacom Intuos4 Medium tablet (PTK-640),valued at $349. Check out the official Wacom website for the full specs.
10 x copies of Logo Design Love by David Airey

Logo Design Love is definitely one of my favourite design books. It is absolutely jam-packed with real-world design advice, insights, and tips – a must have for anyone interested in logo and brand identity design.
You are probably already familiar with author and designer, David Airey's work. If not, please check out his blogs; David Airey, Logo Design Love, and Identity Designed. He is a great guy and has written an equally great book.
We have 10 copies of the Logo Design Love book to give away to our lucky readers. That's right, 10!
Total Prize Value = $700
How to enter
Entering the giveaway is dead simple. You have three options.
1. Subscribe to Logobird by RSS or Email and leave comment below.
and/or
2. Retweet this post. Please be sure include the hashtag #logobird to help us keep track of your tweet.
Each method gives you one entry into the draw.
The deadline for entries is 11 pm AEST Wednesday, 23rd Feb 2011. Prize winners will be drawn at random and announced on Thursday, 24th February 2011.
There is a total of 11 individual prizes up for grabs here, so there is plenty to go around.
The prizes for this giveaway have been personally funded by us – your support is sincerely appreciated.
Good luck!