Logo Designer Interviews: Ty Mattson + Lost Poster Giveaway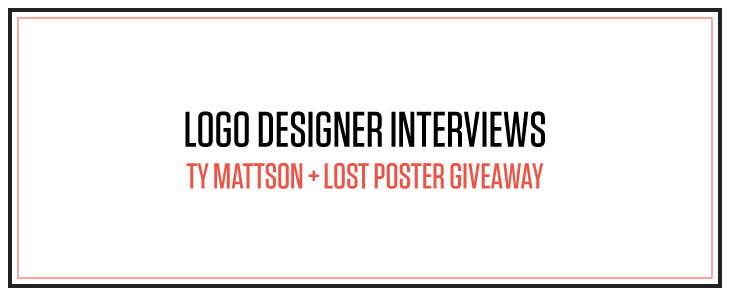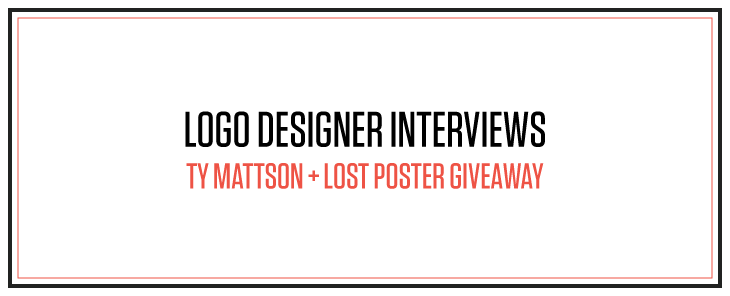 This week I had the opportunity to interview Ty Mattson, the Principal of California-based design studio Mattson Creative. Mattson Creative specialises in brand identity and has worked with brands such as Coca-Cola and The Discovery Channel. Celebrity clients include the likes of Lenny Kravitz and Maroon 5.
I have admired Ty's work for some time now and have previously featured his site in a previous post – 13 Must Follow Logo and Brand Identity Design Blogs . To say the least, I was very excited when he agreed to do this interview.
Recently, Ty has been receiving acclaim for his artwork inspired by hit television series Lost.  Being a huge Lost fan, Ty created the original poster designs as a personal tribute to the show. The Lost inspired posters are now available for purchase at the official Lost merchandise store.
Lost Poster Giveaway
To celebrate our interview with Ty Mattson, we are giving away an original silk-screen printed Lost poster (valued at $45.95) designed by Ty to one lucky reader. For details on how to enter this exciting giveaway please see the bottom of this post – the entry process is simple.
An Interview with Ty Mattson
Thank you very much for taking the time for this interview. Can you tell our readers a little about yourself, what you do and where you're from? What is a typical day like for Ty Mattson?
32. I live in Southern California. Studied design at University of Michigan. Started my own practice about 6 years ago.
I'm not sure there is such a thing as a typical day. Coffee seems to be the only constant.

Can you walk us through your typical process for a brand identity design project?
I always start with sketches. I spend a lot of time drawing and exploring. When I go to the computer, I usually start with type – looking for typefaces that seem to embody the tone of the brand. From there I realize the sketches that I feel work the best. There is a little movie of this I made on my blog for a client, Mottsy.

How do you find clients, or how do clients find you?
New business is an important part of my work, so networking, self-promotion and referrals all play into it. But I've found that doing great work for the same clients has been the best practice.
You have worked with some really high profile clients. From corporations like Coca-Cola and The Discovery Channel, to celebrities like Maroon 5 and Lenny Kravitz. How is it different working with these types of clients?
It's much easier. The higher profile clients understand the value of design and have the experience and professionalism that make projects go smoothly.
What has been your most challenging (or rewarding) project to date? Why?
I love logo projects – reducing a complex idea into the simplest form, then expanding that into a visual language to create a brand.

What do you think has been the fundamental reason for your success as a designer?
That's a nice compliment. Thank you. This is a good question…not sure if I can put it into words…but I am very passionate about design. I love what I do. I think most creative's feel this way, that they HAVE to create things; make things.
How do you keep yourself motivated?
Never have had an issue with that. The hard part is shifting gears and turning it off to rest.

What are your main sources of inspiration?
I have been thinking a lot about influences lately. Here are a few: Saul Bass. Mark Kistler. Paul Rand. Walt Disney. Tim Burton. Terry Gilliam. Charles and Ray Eames. Herbert Matter. Jim Hensen. Dr. Seuss. Norton Juster. Jules Feiffer. DC Comics. George Lucas. Peter Gabriel. U2. Edward Gorey. Charles Spencer Anderson. Paul Howalt. Jason Schulte.
Finally, for designers aspiring to be at the level you are today, what would be your advice?
I just read Malcom Gladwell's new book (Outliers) about spending 10,000 hours to become an expert at something. I think it's true. You have to design as much as possible. Never stop looking and learning. Stay up with what is current but refine your own point of view. Hold up your work to the best work out there – how does it compare? Keep pushing to make every project better.  Don't settle for good. Push for great.
###
For more information on Ty and his work and feel free to browse his blog and follow him on Twitter.
Exclusive Lost Poster Giveaway
To be in the running to win an exclusive silk-screen printed Lost poster designed by Ty Mattson, all you need to do is leave a meaningful comment below and follow us on Twitter (@logobird). The winner will be drawn at random and announced on the 23rd of May 2010 – the same day the final episode of Lost airs in the U.S. Good Luck!
Logo Designer Interviews is an ongoing series here on the Logobird blog. We have more exciting interviews coming up that you wont want to miss. To stay up to date please subscribe to our RSS feed and follow us on Twitter.
UPDATE 24/05/2010: Winner Announced
Congratulations to @supervee for winning the Lost poster. Thank you to everyone who entered and supported the competition.