Logo Designer Interviews: David Airey + Giveaway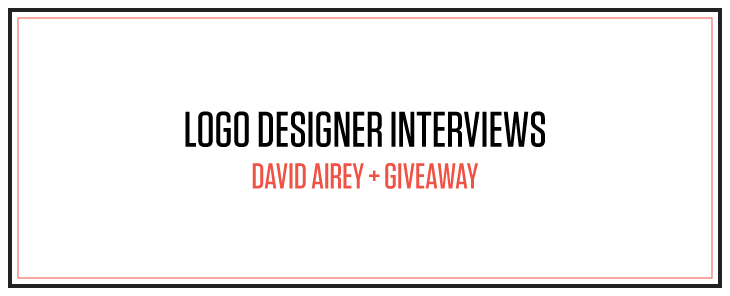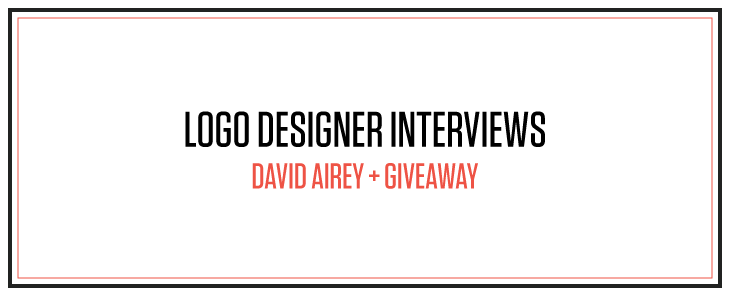 This is the first post in a new series here on Logobird titled Logo Designer Interviews. In this series, we will be interviewing a number of renowned logo and brand identity designers to help provide an insight into their work.
It is quite fitting that in this first edition, I had the opportunity to interview well respected design author and brand identity designer David Airey.
David runs two highly successful graphic design blogs davidairey.com and logodesignlove.com, which late last year he used as a platform to successfuly launch his first book titled Logo Design Love– a guide to creating iconic brand identies.
I picked up a copy of Logo Design Love shortly after its initial release and highly recommend it to anyone interested in becoming a brand identity designer. For one lucky reader we are giving away a copy for free. Details on how to enter the giveaway are at the bottom of this post.
An Interview with David Airey
You have mentioned in past interviews that you tend to steer clear of other fields of design, for example Web Design. Do you think that many designers spread themselves too thinly across different design fields?
It's certainly possible to be a generalist and produce fantastic work, but there are so many different niches within the design profession that it's hard to ignore the figure of speech, "Jack of all trades. Master of none."
There has been a lot of discussion lately about the current state of the design community. What are your thoughts on this? What would you like to see be done different out there?
The focus needs to be on what is taught in design schools. A few months ago I asked my readers what they considered was lacking on their programmes and courses. The response was excellent, and you can read recommendations for graphic design schools here.
Designing your own personal logo and identity is a very painful experience for many designers. What was the reason for the redesign of your logo? What was the process like for you?
I'd wanted to change my old logo for some time. The "DA" monogram served me well for the years when I was using it, but I felt as if I'd outgrown the look.
With the new design, the focus is solely on my name, rather than an accompanying symbol. Given my uncommon surname, it made sense to keep the design simple, and because of which, the process was a lot less stressful than before.

davidairey.com has recently undergone a significant redesign as well. What was the goal of the redesign?
The three-column design blog/portfolio with the content in the middle had become too ubiquitous for my liking. On top of which, my central column width of 460px was restricting when it came to featuring images. I'm much happier with the 650px content width, and much happier with the less cluttered appearance.
It's no coincidence that both my logo and site design changed around the same time, and it's definitely a reflection of my preferred design style — simple, clean, plenty of white space.
Why have you never tried to monetize davidairey.com with advertising. Do you think proliferation of advertising on design blogs is adversely effecting the design community?
I earn my living mainly by the clients acquired through davidairey.com, so it's an advertisement of my portfolio. To direct viewer attention to third-party products or services would be to dilute the main message.
While it's true that many design blogs are started with the goal of earning advertising revenue, and the content becomes a regurgitation of that seen elsewhere, I don't believe there's an adverse effect on design as a whole. It simply means we need to be more choosy about the blogs we read/subscribe to.
As bloggers we all make mistakes from time to time. What are the biggest mistakes you have made as a blogger?
Here's a blog article from 2007 that's still very relevant:
Seven blog mistakes to avoid
You have recently launced a Facebook fanpage for davidairey.com. What are you hoping to achieve from your fanpage?
A few months ago, and upon the recommendation of my book publisher Peachpit, I launched a fan page for Logo Design Love. What surprised me was the amount of comments left from people who would never comment on my blog, so it was clear I could chat with other readers solely on Facebook. Because of which, it made sense to start a second fan page for my main blog, davidairey.com, with the simple aim of offering another way for readers to contact me.

Logo Design Love is one of the most highly rated logo design books on amazon.com. Did you expect the book to be as well received as it has been? What did you learn about yourself from writing the book?
I'd no idea how the book would be received. My editors said my readers would be delighted, and although I trusted my team, there was always a sense of apprehension. I'm sure all first-time authors have similar thoughts.
I knew the book-writing process would be difficult, but I didn't think I'd contemplate giving up (which happened a couple of times towards the start of the project). I learned that authoring a blog does not make you a good writer, and it took a lot of hard work on the part of my editors to have me writing to a decent standard.

What time management tools do you use to help you run your blogs, design work, and other professional commitments?
There are just a couple of tools I use for time management purposes: Google Calendar, and a clock.
What do you think is the most effective way for a client to find a professional logo designer?
Word-of-mouth. If you're on the look-out for a designer, and you have friends in business, ask them for advice.
Alternatively, research is vital. Compare at least three portfolios, and be sure to ask questions before making a choice.
What are you working on at the moment? Is there something new that you are currently working on that you can give us the inside scoop on?
No second book, as yet, Duane, but perhaps soon — one that's less logo-specific and more brand-oriented. There's one main client project on the go, and the ongoing work on my blogs and portfolio.
Other than that, it's getting prepared for a trip to Spain next month, my Cyprus wedding in June, and a honeymoon in July / August.
Logo Design Love Book Giveaway:
To be in the running to win a free copy of Logo Design Love all you need to do follow us on Twitter and tweet about this post. Please make sure you include #logobird in your tweet so we can track it. The winner will be drawn at random and announced on the 1st of May 2010. Good Luck!
Update 01/05/2010 Winner Announced:
Congratulations Michael Guthrie (@memphoman). You are the winner of a brand new copy of Logo Design Love. Thank you very much to everyone that supported and entered the competition.
####
Logo Designer Interviews is an ongoing series here on the Logobird blog. We have more exciting interviews coming up that you wont want to miss. To stay up to date please subscribe to our RSS feed and follow us on Twitter.