Logo Designer Interviews: Steve Douglas of The Logo Factory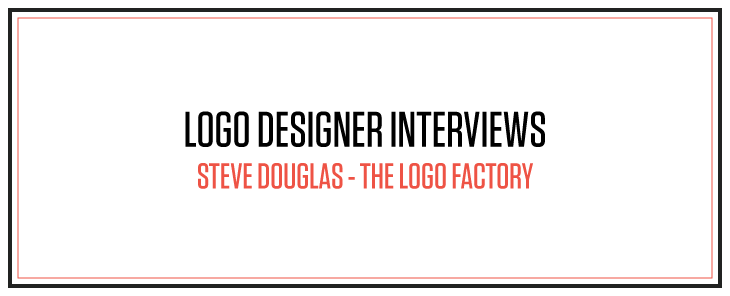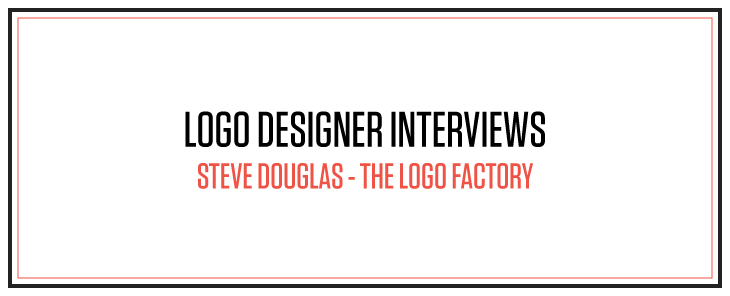 Continuing the popular logo designer interviews series, this week I had the pleasure of interviewing Steve Douglas, creative director at The Logo Factory.
Steve has been involved in offering online design services since starting The Logo Factory in 1996. No that isn't a typo, 1996. If it has happened in the online design space, Steve is likely to have witnessed it. He is a true pioneer.
In this interview, Steve discusses how he got started using a free 10 megabyte website, how the industry has evolved over time, and shares some solid advice for aspiring logo designers.
To stay updated with the latest happenings at The Logo Factory, please check out their blog. You can also follow The Logo Factory on Twitter and Facebook.
Now, lets get to the interview!
Hi Steve, thank you so much for agreeing to this interview. Can you begin by letting us know a little bit about your background? How did you get started designing logos?
Originally, I wanted to be an illustrator and studied illustration in college. Trouble is, when I started out as a professional, clients kept coming back for logos. It was something I seemed to be good at and while half the time I was like "I'd love to do some illustration work for you" clients were "yeah, that's great. How about designing a new logo for us." After a while I gave up trying to be an illustrator and embraced the logo design niche. My penchant for illustration can still be seen in a lot of our work, as I tend to hire people that can draw.

One thing that I am sure would fascinate many of our readers is that The Logo Factory has been doing business online since 1996. How did The Logo Factory get started?
I had an earlier idea for a business that would have seen me using mailing lists to target new companies for logos and what have you, but I shelved that idea around 1993 due to financial realities of the time. A few years later, when I signed up for Internet access, my ISP gave me a 10 megabyte website that I used to build a portfolio site. It had everything that I was capable of on it – logo design, illustration, photography, brochure design – but the requests for work centered around logos. Again. Though from around the world. I figured that would be a decent business model, so using the business plan I had developed earlier, I started work on what would become The Logo Factory in 1996, only rather than using mailing lists, I used the Internet and people came to me. At the time there was nobody selling logo design services online, so it was a pretty open field. I was able to get #1 placement on most of the search engines of the time – Google wasn't around in those days, the big ones were Alta Vista and Infoseek. I went from being broke to earning  a relatively comfortable living overnight. We've tweaked how my company functions over the years, but we still use the basic formula that I developed at the beginning. As do most online logo companies.
How has running an online business changed since way back then (1996)?
Wow. It's changed a lot. It's intensely competitive now. Lots of hacks, sock puppet websites and posers. Getting decent search engine placement is extremely difficult and the competition has caused a hard downward pressure on pricing. On the up side, setting up a website is a lot easier, hosting is cheaper and getting credit card payments is a snap. Back in the day, services like Paypal didn't exist, so vendors had to get merchant accounts with either the bank, or the credit card companies themselves. Had to jump through a lot of hoops and post cash bonds before anyone could get approved. There's also a lot more traffic and people are generally more accepting of making online purchases. It's easier for designers to market themselves than it ever has been. And there's a world of opportunity out there.

Some of the design community who would frown at the fact that you offer fixed-price design packages to your clients. Can you explain why have you chosen to structure your pricing this way?
I realized from day one that if I was going to sell design services via the Internet, I had to approach it as a retail level business. On the web, even back in those days, people want instant gratification and want to know pricing right away. They don't want to wait for someone to get back to them – by that point they've already found someone else. There's also some practical issues too. If you have one or two visitors a day to a website, you can handle RFPs in the traditional way. It you have 4 to six thousand unique visitors a day, as we've had on occasion, most of whom want to know 'how much does a logo cost', you'd spend all day writing proposals just to keep up, even though a majority of the proposal requests are from people who are 'tire kickers'. Only moderately interested in going forward. We were the first company to offer various packages for different budgets depending on how much work we'll do, number of revisions and what not. I've caught grief on occasion from other designers, but it comes with the territory – if you want to run a successful online design company, potential customers need to know, with very little effort or delay, how much you're going to charge.
Take us behind the scenes at The Logo Factory. What does your logo design process entail?
Our design process is quite typical. Through an initial briefing with the client, we ascertain what they want to achieve with their logo. Taking this information, we then research whatever business area they're from, take a look at their competitors to see any market trends and then design a few early concepts. These can take the shape of digital doodles or in the case of illustrative work, rudimentary pencil sketches. We still employ sketchbooks at the shop for early brainstorming. Then, through a back-and-forth series of iterations, we hone in on a logo that the client will sign off on. We work closely with the client throughout the process, as it's their baby. Sometimes this leads us to material that as designers, we're not terribly fussed with, but if the client is happy, we've done our job. I guess the only real difference between The Logo Factory and a typical design shop is a lot of the early information is automated and a lot of the communication is via our website and/or e-mail. We still spend a lot of time on the phone though, and local clients often drop-in for a face-to-face with their designer.

In your opinion, what makes a good logo?
Business wise, a good logo is one that the client is happy with. Artistically, a good logo is one that manages to convey some aspect of the entity it represents, whether it's what the company does, or a theme – conservative, budget, cutting-edge – about the company. While a lot of our material, due to my background, leans towards complex logos, I still think the best kind of logo is simple, graphic and minimalist. Something that can tell the story in a few micro-seconds. A logo that's memorable and is instantly connected with the business, product or service that it's representative of. There's technical considerations too – how well a logo fits into collateral design material, usually dictated by the design's footprint and aspect ratio. A good logo also needs to be adaptable on a wide range of mediums – from print to web, from embroidery to coffee cups, business cards to the side of a van or truck. It's important to keep these uses in mind, even if the client doesn't have a truck today, who's to say they won't have one in a year or two.
What do predict will be the major challenges for those in the logo design industry over 5 years?
That's easy. Spec work, crowdsourcing and design contests will continue to flourish and downgrade the industry. It'll make it harder for younger designers to break into the industry – not easier as the pro-spec people claim. There's also a trend to focus on overall branding, rather than just logos, so it won't be quite as easy to sell 'just' logo design services. People will need to diversify.
You are quite prolific when it comes to blogging about logo design. How has blogging helped your business? Also, what do you think makes a good blog?
If done right, blogging about a subject, whatever it means, tends to make people think you're some sort of expert – that's a good thing. Blogging also helps you become a better communicator and four fifths of design is just that – communication. It helps you defend positions and express your opinion – that's important when trying to convince a client that this or that logo is the right one for them. From a practical point-of-view blogging helps in terms of search engine penetration and exposure – it brings more eyes to our website, even though most of my blog posts are written from a designers perspective, and to designers. A blog that's current shows that your company is a contemporary entity – stale dated blogs tend to do the opposite, so if you're not going to blog regularly, don't bother. A good blog is one that engages people. Maybe a little controversial – most of our popular posts involve spec work in some fashion – and one that asks questions rather than preaches to the choir. Unfortunately, I tend to write opinion piece rather than discussion pieces so my blog isn't as much of a hub as it perhaps could be.

How do you deal with criticism?
I try to never take criticism personally. When someone tells me they don't like something I've created, I listen to their concerns and act on them. I have a rule – "never get married to any artwork" – that has served me well over the years. At the end of the day, it's the client's logo and they have to live with it for a long time. I want them to be happy with it, even if I not entirely satisfied with the direction they've chosen.
From someone who has been in the industry for so long, what advise do you have for aspiring logo designers?
Don't limit yourself to just logo design. Spin that off to another speciality. We've recently made a push into 3D logo animation and video intros. Still in the logo design niche, but a little more than just logo design proper. Anyone with a copy of Illustrator can, in theory anyway, hang out a logo design shingle so competition is going to be fierce over the next few years. If you can offer clients that something 'special', and something that you're exceptionally good at – web design, infographics, animation – then you'll have a leg up over other designers and would-be designers competing in the same space.
####
A massive thank you to Steve  for participating in the interview. Truly fascinating.
Stay tuned for more in the series, including upcoming interviews with:
Graham Smith – imjustcreative, Sneh Roy – Little Box of Ideas, Steve Zelle – Processed Identity, Sean Farrell – Brand Clay, and more!
Please subscribe to our RSS feed and follow us on Twitter to make sure you don't miss out!